Eyzuri Segovia Sanchez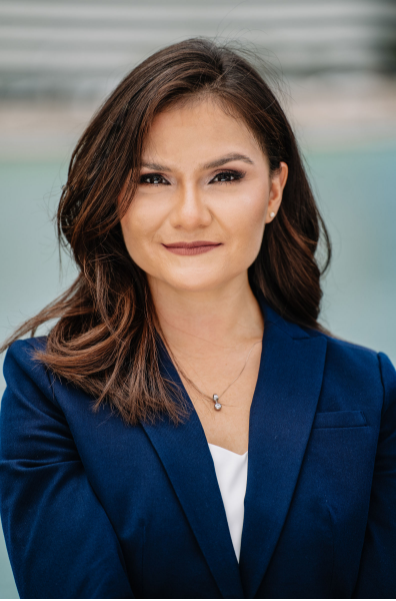 Eyzuri Segovia Sanchez is an Associate Attorney with Milla and Associates, LLC who brings a wealth of experience and knowledge as someone who has been with the firm since 2015. Eyzuri was born and raised in Mexico, and her experiences as an immigrant help her understand clients' needs and concerns from personal and legal perspectives. She is not only compassionate but committed to strategizing and carrying out a successful path for clients. In doing so, she has a special ability to guide her clients through the various stages of cases from planning to obtaining long-awaited approvals.
Eyzuri joined Milla and Associates in 2015 as a paralegal. In that role and as a BIA accredited representative, she was an integral part of obtaining successful results in complex cases before U.S. Citizenship and Immigration Services, Immigration Courts across the U.S., Board of Immigration Appeals, and U.S. Department of State offices around the world. From her extensive caseload over the years, she is adept at spotting issues and guiding clients through removal ("deportation") defense, asylum, benefits under the Violence Against Women Act (VAWA), U visas, I-601A provisional hardship waivers and I-601 hardship waivers, adjustment of status to permanent resident ("green card"), naturalization ("citizenship"), and Deferred Action for Childhood Arrivals (DACA).
In 2020, Eyzuri earned her juris doctor degree from Chicago-Kent College of Law. While in law school, Eyzuri was awarded CALI Excellence for the Future Awards as the top student in courses on Legal Writing for Immigration and Nationality Law and National Security Law and was recognized in the Dean's Honors List several times. She also excelled in the immigration law courses offered at Chicago-Kent, earned an externship at the Mexican American Legal Defense and Educational Fund (MALDEF), and was an active officer of the Chicago-Kent Chapters of the ACLU, National Lawyers Guild, and Immigration Law Society. Of note, Eyzuri was among a small group of law students selected to travel to Dilley, Texas for the CARA Pro Bono Project in 2019 to assist asylum seekers in need of legal help at the U.S. southern border. With such valuable firsthand experience helping immigrants, Eyzuri's resolve to be a strong immigration advocate solidified. As an attorney, she provides clients with the thoughtful, effective legal representation they deserve. Prior to law school, Eyzuri graduated from Roosevelt University with a Master of Arts in Sociology (2013) and a Bachelor of Arts in Political Science (2010). She is a native Spanish speaker and enjoys giving back to the community through her volunteer work with local nonprofits.
Bar Admissions
Education
Illinois Institute of Technology, Chicago-Kent College of Law, Juris Doctor, 2020
Roosevelt University, Master of Arts in Sociology, 2013
Roosevelt University, Bachelor of Arts in Political Science, 2010
Honors & Awards
CALI Excellence for the Future Award, National Security Law, 2019
CALI Excellence for the Future Award, Legal Writing for Immigration and Nationality Law, 2019
Dean's Honor List, Spring 2019, Fall 2019, and Fall 2020
Professional Associations
Chicago Bar Association
Women's Bar Association of Illinois
Illinois Hispanic Bar Association
American Immigration Lawyers Association