Justin K. Hoefflicker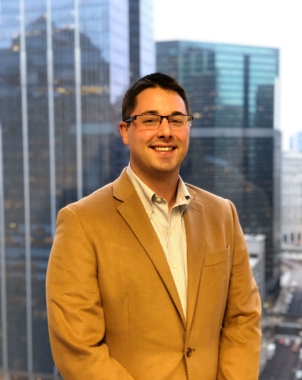 Justin K. Hoefflicker, of counsel, has been an attorney since 2011, specializing in employment-based immigration law. Mr. Hoefflicker possesses broad experience in employment-based immigration including, H-1B visas, L visas, J visas, P visas, change of status, PERM, and employment-based immigrant visas (EB I-V). Mr. Hoefflicker draws on his immigration experience to provide focused representation that is responsive to the needs of each individual client.
Mr. Hoefflicker's immigration practice has seen him represent clients from an extensive variety of backgrounds and circumstances. Through his employment-based immigration practice, Mr. Hoefflicker has assisted companies that range in size from multinational corporations to smaller employers with only a few employees. He is sensitive to the specific demands that each prospective client faces when seeking employment-based immigration benefits. Mr. Hoefflicker has represented clients from Africa, Asia, Europe, and the Americas in all facets of his immigration practice. Mr. Hoefflicker appreciates the unique nature of each client's case, and he uses his knowledge and experience to foster a client-centric approach to his representation. His varied experience is paramount to the representation he offers while seeking the best possible outcomes for his clients.
Whether you are a business seeking an employment-based immigration solution or an individual with a specific immigration goal, Mr. Hoefflicker is a competent immigration attorney who offers a straightforward approach and seeks practical solutions for his clients. While Mr. Hoefflicker's practice now focuses primarily on employment-based immigration, he also has years of experience with a broader range of immigration cases, including successfully receiving approvals in marriage-based adjustment of status, dependent spouse and child change of status, Deferred Action for Childhood Arrivals (DACA), provisional hardship waivers, and citizenship.
Education
Illinois Institute of Technology, Chicago-Kent College of Law, Juris Doctor with a certificate in International & Comparative Law, 2011
St. John's University (MN), Bachelor of Arts in Political Science with a concentration in International Relations, 2008.
Admissions
Illinois, 2011
Indiana, 2014
United States District Court for the Northern District of Illinois, 2012
Publications
CICIG's Anti-Corruption Approach in Guatemala, 14 Gonzaga J. Int'l L. 121 (2011).
Speaking Engagements
Chicago-Kent College of Law, Guest Lecturer for Advanced Legal Writing Course on Immigration: H-1B Visas and Executive Action on Immigration, April 2017
Chicago-Kent College of Law, Guest Lecturer for Advanced Legal Writing Course on Immigration: H-1B Visas and Employment-based Permanent Residence, April 2016
Notable Decisions
USCIS, Service Center, 2018, H-1B visa approval upon RFE challenging professional occupation analysis for small architecture firm
USCIS, Consulate abroad, 2018, O-1 visa approval and consular visa issuance following consulate improperly denying initial visa interview due to lack of proper nonimmigrant intent
USCIS, Service Center, 2018, F-1 student visa reinstatement issued to attend a new school after Applicant's previous school terminated SEVIS record in a 24-hour period after Applicant missed class for a medical emergency
USCIS, Service Center, 2017, National Interest Waiver green card case approved for Applicant and family based on Applicant's scientific work in country of origin
USCIS, Service Center, 2017, H-1B approval for company hiring individual with previously-approved I-140 from prior employer
USCIS, Service Center, 2017, multiple H-1B approvals for entry-level dentists after USCIS issued Requests for Evidence challenging wage level used in LCA for the positions
US Consulate, 2017, E investor visa for treaty investor establishing new investment enterprise in the US from abroad
USCIS, Service Center, 2015, Chicago-based consulting company's H-1B petition preserved after receiving Notice of Intent to Deny following a site visit from DHS field officer
USCIS, Field Office, 2014, marriage-based adjustment of status green card case approved after Notice of Intent to Deny challenging bona fide marriage of couple not living together at the time of marriage
USCIS, Service Center, 2012, tech startup's H-1B petition approved after successfully responding to Request for Evidence challenging speciality occupation classification
Matter of X, Immigration Court 2012, Applicant's asylum case approved in immigration court based on affiliation to a particular social group